Smith Log Cabin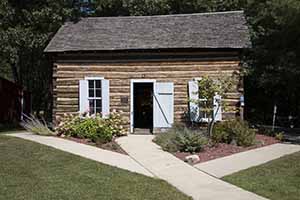 The log cabin was built about 1879 and was moved to the museum in 1971 from 5 Mile Road in Averill. You can still see the faint outlines of the street number by the front door. The Sanford Historical Society purchased the cabin from Byron and Kate (Nightlinger) Dye with the funds given to the Society after the 1970 Sanford Area Centennial celebration.
The Smith family, who lived in the cabin in the 1920s, originally refurbished the cabin. Floyd "Buzz" Smith, a past member and a former President of the Sanford Historical Society, was born in the cabin. There are several relatives of the Smiths still living in the Sanford area.
The cabin went through major repair in 1992, when several logs were replaced and the entire cabin was rechinked inside and out. In 2010 the roof was reshingled and a kitchen addition, similar to one the Smith's used, was added to the back of the cabin.
The cabin consists of one bedroom downstairs and two more upstairs (not open for viewing). Wood stoves were used for cooking and heating and the bathroom was an outhouse.