Clare Z. Bailey Memorial Chapel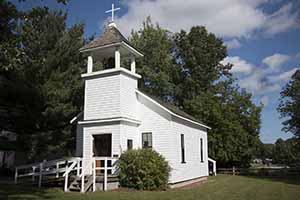 This building, originally owned by the Wright & Ketcham Lumber Company of Averill, was built in 1881. It was remodeled into the Averill Methodist Episcopal Church in 1891 by a small, but dedicated group of people.
This church was donated to the Sanford Historical Society by Mrs. Gertrude Bailey in memory of her husband, Clare Z. Bailey, and moved to this location in 1979. It was restored in 1981 and 1982. Many layers of wallpaper were removed revealing traces of the original colors and designs. New stencils were made and designs restored as a part of the more than 500-hour restoration process. Armin and Fritz Mersmann carefully reproduced and hand-painted each individual design.
At some point in the past, a window had been installed in the front of the church. During the installation of that window, a part of a covered up bible verse that originally graced the wall was removed. After the wall was restored, local ministers looked at the parts of the verse that remained and determined the proper verse, which has now been put back.
The reed organ was donated several years ago and is in working condition. The original heating system was a wood-burning stove fired up early before a service. Weddings are still held in the chapel and can be arranged with the host/hostess, or by contacting the museum.