2018 Give Local Midland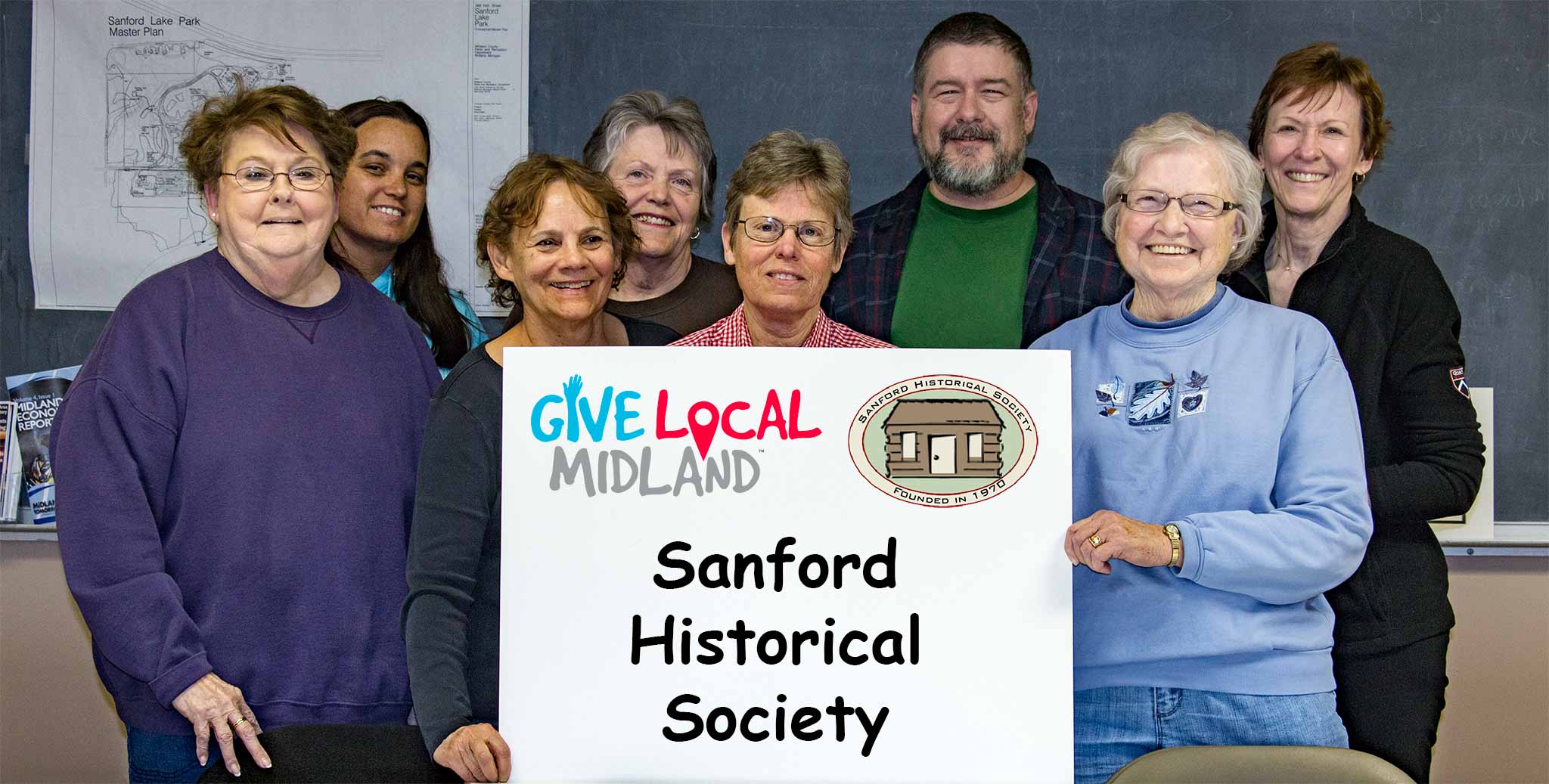 The SHS Board says, "Help us make history!" Mark your calendars for May 1st 2018 – we're participating in Give Local Midland, a 24 hour online giving event for nonprofits, and we'd love your support!
If you've ever thought about making a donation to the Sanford Historical Society, May 1st is the perfect day to do so!
We have some exciting news to share with you! On May 1, 2018 the Sanford Historical Society is joining over 50 local nonprofits in raising money to help improve our community. Last year Give Local Midland raised more than $266,000 for local nonprofit endowment funds.
The Museum complex has 9 buildings to maintain plus the collections in each of those buildings. There are cases and file drawers full of photographs and documents that need proper archival materials to keep them safe for future generations to enjoy. It takes more than just our faithful volunteers. Plainly, it takes money…for paint, nails, toner for printers and even brooms to keep the buildings clean. The list is endless.
We need you to help us with three things:
Mark Give Local Midland on your calendar for May 1, 2018 from 12:00 a.m. to 11:59:59 p.m. Sanford Historical Society is participating in Give Local Midland (#GiveLocalMidland)! Every donation will be stretched further if you donate to our organization's endowment fund through the link here: https://givelocalmidland.org/npo/sanford-historical-society-1
Please make a donation to support us on Tuesday, May 1st.
Help us spread the word! Follow us on Facebook: https://www.facebook.com/SanfordCentennialMuseum/ Follow the hashtag #GiveLocalMidland to see the buzz.
We can't wait to celebrate the difference your generosity will make on May 1st!
All qualifying donations must be received on May 1, 2018. Online donations can be made from 12:00 a.m. – 11:59 p.m. on May 1st at www.givelocalmidland.org.
Gifts of cash or check must be received at MACF offices located on 76 Ashman Circle between the hours of 8 a.m. – 6 p.m. on May 1st. If you would like a tax deduction, an offline gift form must be filled out and turned in with gift. Bulk offline gifts (more than 10 gifts of check/cash at a time) must be received no later than 3 p.m. and include offline donor gift forms (provided by MACF) prior to the event by request.
---