July 19, 2017 Membership Meeting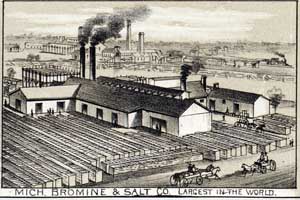 The July membership meeting of the Sanford Historical Society promises yet another outstanding presentation by our scheduled History Moment Speaker, Kyle Bagnall. Kyle is the Manager of Historical Programs for the Chippewa Nature Center and will be presenting his multimedia PowerPoint program, Salt in the Saginaw Valley.
Long before salt mines opened under Detroit, drilling began in 1838 on Michigan's first brine well, in Midland County. Eventually, salt production would become a tremendous source of wealth in the Saginaw Valley, linked to the lumber industry. From health-seekers soaking in mineral springs to countless barrels of granulated salt shipped by train, our region's fame attracted H.H. Dow to Midland in 1890. Join Kyle Bagnall, Manager of Historical Programs at Chippewa Nature Center, as we investigate our salty past.

With a degree in Public History from Western Michigan University, Kyle has researched Michigan History for more than 20 years. Since 1995, he's worked at Chippewa Nature Center, exploring how people have interacted with the natural world.
The program should last about 45 minutes and will be followed by time for questions and answers. Admission and parking are free. This meeting of the Sanford Historical Society will be held at 7 p.m. on Wednesday, July 19th, 2017 in the historic 1870s railroad depot on the museum grounds. You don't have to be a member to attend—everyone is welcome!
---