June 21, 2017 Membership Meeting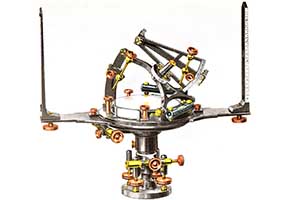 The June membership meeting of the Sanford Historical Society promises another outstanding presentation by our scheduled History Moment Speaker, Kyle Bagnall. Kyle is the Manager of Historical Programs for the Chippewa Nature Center and will be presenting his multimedia PowerPoint program, In the Steps of Michigan Surveyors: 1805 – 1855.
"Before local lands were settled, they first had to be surveyed. Hear amazing tales of Michigan surveyors traversing wild lands as they completed their work. We'll travel from the wilderness of early Oakland County to the far reaches of the Upper Peninsula together." -Kyle Bagnall
With a degree in Public History from Western Michigan University, Kyle has researched Michigan History for more than 20 years. Since 1995, he's worked at Chippewa Nature Center, exploring how people have interacted with the natural world.
The program should last about 45 minutes and will be followed by time for questions and answers. Admission and parking are free. This meeting of the Sanford Historical Society will be held at 7 p.m. on Wednesday, June 21st, 2017 in the historic 1870s railroad depot on the museum grounds. You don't have to be a member to attend—everyone is welcome!
---