Main Museum Building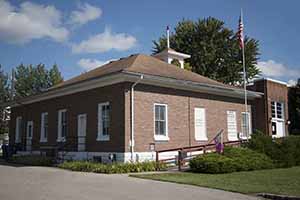 Riverside, the main brick school, was built in 1910 as a two-room school. The building was doubled in size in 1939 by works progress administration workers. K thru 8th grade attended the school. The high school students went to Midland, Coleman, Beaverton, or Edenville (1934-1946), for their higher education.
There are many displays in the museum that are representative of the various businesses or activities of the early years of the Sanford area. The last year that classes were taught here was 1968. The building was used to house artifacts for the Sanford Centennial Celebration in 1970. The Sanford Historical Society was established after the centennial in 1970 and has used the building ever since. It is the first building to be designated as part of the museum.