Charles Skiff Sanford
1816-1907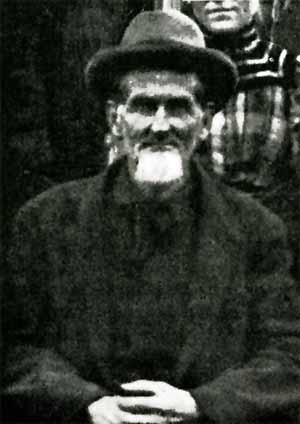 Charles Skiff Sanford (1816-1907)
Charles Skiff Sanford was born April 27, 1816, to Peleg Phelps Sanford and Anna Skiff Sanford in the town of Madison, Madison County, New York.
As a young child he was brought up by his mother's parents, Charles and Susannah Cowden Skiff in Madison, New York.
In 1832 at the age of 16 he moved to the town of Fredonia, Chautauqua County, New York where his mother lived following the death of his grandmother that had raised him. While living in Fredonia he found employment as a Farm Labor and also engaged as a Shoemaker.
The 1840 Census that was taken in June shows Charles living in the town of Pomfret, Chautanqua County, New York with one female, presuming this was Eliza Button in which he had married on April 26, 1840.
Sometime between June 1840 and July 1841, Charles and Eliza moved to Ohio. Their first child of seven was born, a daughter, on July 29, 1841 in Ohio. They named her Sarpeta P. Sanford.
The second child born was Anson Anderson Sanford, born in the town of Geneva, Ashtabula County, Ohio on September 30, 1842.
The third child born was William A. Sanford, his records indicating he was born in New York on February 6, 1845.
Another son, George Ora Sanford was born in Geneva, Ohio on September 22, 1849, making him their fourth child.
The 1850 Census shows Charles, Eliza, Sarpeta, Anson, William and George living in Geneva, Ohio along with Eliza's mother Anna Button.
Later in the year of 1850, child number five, a daughter, Catherine Adelia Sanford was born on November, 25 in Geneva, Ohio.
Another daughter arrives to Charles and Eliza on June 17, 1855 in Ohio. They named her Ida Ann Sanford, she was the sixth child born of this union.
The 1860 Census records show Charles, Eliza, William, Adelia, George, and Ida all still living in Geneva, Ohio.
Child number seven, the youngest, was born in Geneva, Ohio on December 15, 1860, they named him Charles Wesley Sanford.
In 1863 Charles and his family moved to Jerome Twp., Midland County, Michigan according to his self-written life story.
In May of 1864 Charles purchased 1000 acres of pine land in Midland County along with 213 acres where present day Sanford, Michigan is located. The 213-acre tract first became known as the "Salt-Spring Reserve", the first salt well in the state of Michigan.
The 1870 Census indicates Charles, Eliza, George, Ida, and Charles Wesley living in Midland County along with Eliza's father Amos Button. Neighbors to them were their older children, Sarpeta and William with their families.
On June 23, 1871 the post office in the village was opened under the name of Sanfordville. Less than a month later on July 13, 1871 Washington DC changed the name to Sanford.
On November 29, 1873 Charles and Eliza's oldest son Anson dies as a result of a train accident, he was a Freight Conductor of the F&PM Railroad.
Charles sold the "Sanford Hotel" to George Higgins in 1875.
On April 5, 1877 Charles' wife of 37 years, Eliza Button Sanford, dies from inflammation of the lungs. On Christmas Day of the same year Charles marries for a second time to Sarah Allen. Sarah has two children of her own, Caroline and Lola, Charles later adopts her children.
The 1880 Census shows Charles with Sarah and Lola in Jerome Twp., Midland County, Michigan.
Charles' fourth child George Ora Sanford dies May 24, 1891.
Another son, Charles Wesley Sanford, a brakeman for the railroad, dies in 1892 from a train accident.
Census records in 1900 continue to show Sarah with Charles in Lee and Jerome Twps., Midland county, Michigan.
William A. Sanford, the second son born to Charles dies in 1900.
October 23, 1907, Charles Skiff Sanford dies from old age. He lived to be 91 years old. His final resting place is atop a hill in the Jerome Township Cemetery.
Charles Skiff Sanford was a republican in political sentiment and held various local offices. He was Township Clerk for 3 terms, Justice of the Peace for 19 years, held several school district offices was the Inspector at the first election and helped to organize the township of Jerome in Midland County, Michigan.
Charles also operated an 80-acre hay farm, a hotel, and lumbered for seven winters, along with all these accomplishments through the years he continued to maintain being a Shoemaker by trade.
Researched by:
Janice Wallace Northrup
Great, great, great granddaughter
This information was compiled in 2016 in recognition of the 200th birth date of Charles Skiff Sanford.