Jerome Township Hall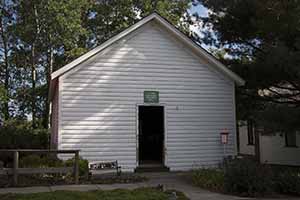 This town hall was used by elected officials to hold meetings and provided for the needs of the area. The town hall was built in 1910 for about $300.00. While in existence in the late 1960s and 1970s, the Sanford police department also used this town hall as their office. Eventually the town hall meetings were moved to the old McNett School building on West River Road and the town hall sat unused.
In 1983 the Jerome Township Board passed a motion to donate the old township hall to the Sanford Historical Society, and this building was moved to the museum grounds from its location on Center Street in Sanford.
There are many papers and books relating to Jerome Township in the town hall. Also included are many photos of people from the area as well as photos of teachers and students who went to area schools.