Blacksmith's Shop & Bunkhouse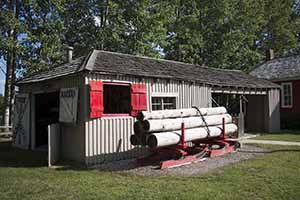 The Blacksmith's Shop and Bunkhouse is a lumber camp in miniature. This building was built on site and shows how the lumberjacks lived in the white pine forests of the area. The sled with logs in front of the building shows one way logs were moved to the banking grounds in Averill with teams of horses. Another way to move logs is the red Big Wheel near the Saginaw Road area of the Museum property.
The logs were stamped on the end with the owner's mark and in the spring the logs were floated down the river to sawmills in Saginaw and Bay City where they were sorted by mark. One item of particular interest is the stump puller (triangular structure) shown below.
On the other end of the bunkhouse is the Blacksmith Shop. During Founder's Day Weekend, a blacksmith sets up a forge and provides demonstrations of the trade. In the early days a blacksmith was an important part of the logging camp or town.