Home > Location & Visitor Information >
School Field Trips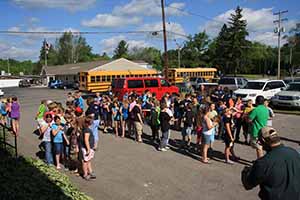 The Sanford Centennial Museum is a great place for school-aged children to visit. Many schools are already using our displays as a teaching tool. Children love to experience the way life used to be!
Our trains, "work-saving" tools and the one-room schoolhouse are always big hits with the kids and allow teachers to talk about history, technology, math, physics and reading.
A tour guide will walk with your class discussing all of the displays. The children are allowed hands-on access to the tools and are also given access to the inside of the train engine and will walk through the two cabooses.
They can experience "texting" on a manual typewriter, writing on a slate tablet with chalk, and so much more!