Felix School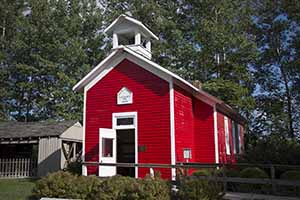 Originally built in 1889, this one-room schoolhouse was called the Felix School and was located at the corner of 11 Mile and Beamish roads. It served Jerome Township from 1889 to 1958. The Holsinger family donated the school to the Sanford Historical Society and it was moved to the museum grounds in 1991.
The school had one teacher who taught grades 1 thru 8 in the same room. The teacher took the pupils from one grade to the front of the room to the long bench where she reviewed their work and gave them new work to do and sent them back to their desk and called the next grade up.
A wood-burning stove heated the school and the bathroom was an outhouse behind the school. The bell on top of the school was used to call the children to school, to come in from recess or rang at the end of the school day. The bell on the roof of the school can still be rung on special occasions.
The students took state tests at the end of the year and had to have a passing grade or they stayed in the same grade for another year.
Rules of Conduct
Following is a list of "Rules of Conduct" which appeared in a 1915 teacher's magazine, now located in the State of Michigan Archives in Lansing, MI:
You will not marry during the term of your contract.
You are not to keep company with men.
You must be home between the hours of 8 p.m. and 4 a.m. unless attending a school function.
You may not loiter downtown in ice cream stores.
You may not travel beyond the city limits unless you have the permission of the Chairman of the Board.
You may not ride in a carriage or automobile with any man unless he is your father or brother.
You may not smoke cigarettes.
You may not dress in bright colors.
You may, under no circumstances, dye your hair.
You must wear at least two petticoats.
Your dresses must not be any shorter than two inches above the ankle.
To keep the school room neat and clean, you must: sweep the floor at least once daily; scrub the floor at least once a week with hot, soapy water; clean the blackboards at least once a day; and start the fire at 7 a.m. so the room will be warm by 8 a.m.
Back-tracking Pa's Roots, Charlevoix Co. Gen. Soc., Volume 11, Edition 3, Fall Edition.