Olson General Store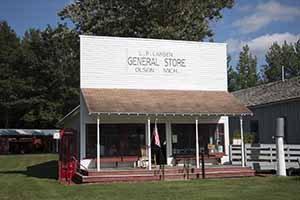 The Olson general store was located in the town of Olson on the northeast corner of 9 Mile and Olson Road in Lee Township. Elva (Larson) Smith donated the store to the Sanford Historical Society. The building was moved to the museum grounds in 1993 and restored.
The store was originally built in 1880 and rebuilt in 1924. The Larson family bought the store in 1904.
When it was originally restored, after being moved to the museum grounds, the walls and ceilings were replaced completely and repainted. The floors were partially rebuilt and refinished.
The layout of the interior of the store was recreated from plans that Elva Smith herself provided. Many of the interior items now displayed were provided and installed with Elva's assistance.
One or two people would operate the store. The customer gave the grocer a list and he or she collected the items and did the weighing, packing and pricing.
There was a gas pump outside the store which was pumped by hand to fill the customer's containers or car tank. There was also a barrel of kerosene to fill the customer's containers.
The store was heated by a potbelly stove around which were several chairs and a table with a checkerboard where customers kept up on the local happenings. There was also a cabinet at the rear of the store for milk, cream, butter and eggs that were traded for groceries or offered for sale to other people. Other items like sugar, flour and coffee were bought by the barrel or large bag which would be weighed and sacked ahead of time for sale when the grocer was not busy.